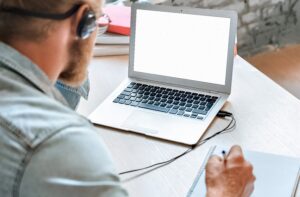 Seafarer training has increased and improved this year – thanks to shipping companies embracing the use of digital technology.
A survey by crewing specialist Danica revealed that nearly a third of all seafarers who responded to say they had received training from their company this year had been trained online – a huge increase from just 4% in 2019. And 63% said they found that training to be useful – a 10% increase on last year.
Danica Managing Director Henrik Jensen said: "Our results demonstrate that shipping is embracing new ways of working and that digital training methods are proving to be a success. I predict this situation will continue and online crew learning will become widespread for many seafarers."
Danica's annual Seafarer Survey is conducted between May and October among its database of more than 43,000 Eastern European seafarers. This year 8,392 crew responded, the majority of whom were senior officers.
The survey found that training is a significant factor in a seafarer's life with almost 54% reporting their company had provided training during their home period – a slight increase on 2019 (52%), despite the pandemic. The most common areas of training include planned maintenance, MARPOL regulations and safety management systems.
However, the Covid-19 pandemic has changed the way training is delivered. Nearly 30% of the seafarers who were given training conducted it online while the use of CBT training has nearly doubled since 2019. In contrast, participation in company seminars has dropped from 55% in 2019 to 40% in 2020, reflecting the difficulties in travelling this year.
It also seems that the quality of training has improved: 63% of respondents reported they found their training 'useful' (up from 53% in 2019). And, importantly, 85% of those who participated in online training said they found it to be better than classroom training.
Mr Jensen says he anticipates online training will replace classroom-based teaching for a wide range of seafarer qualifications, especially those required regularly for certification updates. In fact, he is so sure of this eventuality that Danica has begun delivering many of its courses via distance-learning methods.
"The Covid-19 pandemic and the many travel restrictions around the globe have meant the maritime sector has had to adapt to new ways of studying in 2020," he said. "Distance learning solutions enable seafarers to study at home or onboard at a time that suits them, without the need to travel to a classroom. This reduces the amount of time crew have to spend away from their families during their onshore leave, as well as saving the company money in hotel, travel and refreshment costs."
Mr Jensen said he isn't surprised that Danica's survey shows seafarers are responding positively to remote ways of training: "Digital training is often more flexible, combining a mix of online tutorials, self-work and one-to-one teaching, backed up by verification processes. We have found this blended format leads to higher levels of concentration, commitment and confidence," he explained.
The 42 question survey also identified that seafarer demand for access to the internet and personal emails while at sea has increased and continues to be a significant factor for crew when choosing an employer. While almost 50% of respondents received free access to the internet and a further 38% were able to access the internet with associated charges, 40% of crew said they would change employer in order to gain access to the internet while at sea (up from 32% in 2019). In fact, Mr Jensen advises that Danica is finding it increasingly difficult to encourage crew to take up employment on vessels which don't provide personal internet access.
Salaries remain the key driver for crew switching employers with almost three quarters of respondents (74%) commenting that a higher salary would persuade them to move on. However, the survey also showed that overall wage levels have remained fairly static throughout 2020, with some demand-driven fluctuations caused by pandemic travel restrictions affecting particular regions and thereby driving up demand in less affected countries.
Fringe benefits remain important to seafarers, particularly health insurance for themselves and for family members, pension provision and shorter contract periods. Ship operators take note – a massive 92% of respondents admitted to checking the employment market during their home period!
While 77% of seafarers said they would recommend their employer to a friend (up from 73% in 2019), the survey also revealed a worrying reduction in safety levels with 15% of seafarers reporting they felt they had worked under unsafe conditions (a big rise from 5% in 2019) while 12% said they had experienced a violation of rest hour rules and 13% admitted they had suffered workplace stress.
Mr Jensen commented: "While the majority of our respondents said they had changed companies due to fleet-related redundancy, salary or promotion opportunities, or in order to work on a newer vessel, it is nevertheless important that, as an industry, we work together to address any slips in standards of employment for the hundreds of thousands of seafarers who have kept world trade flowing over this difficult year."
Click here to view/download survey online